Regular price
Rs. 749.00
Sale price
Rs. 449.00
Unit price
per
Sale
Sold out
Vedapure Premium A++ Grade Kashmiri Saffron is the most purest and naturally sourced saffron. It is grown and harvested in the province of Kashmir. You will be bestowed upon the most fantastic aroma, with vivid color and intense taste.
The standard saffron can be used for multiple purposes. You can use it in worship as it is considered pure and auspicious. You can also use it in Kheer, Sheera, and more food to give it an amazing flavor. Saffron remains the most sought and expensive spice in the world. Bringing you the finest quality,
Vedapure Premium Saffron is the leading brand in Delhi in terms of being natural, and pure. Ultimate premium saffron is now here, make your food graceful, and delicious and give it an exquisite aroma.
* ISO, FSSAI, & GMP Certified.
* 100% Original Ayurvedic Products. No replicas.
* Additional discount offers during checkout.
Benefits
✓ Improves digestive system
✓ Improves immunity to fight against all variants
✓ Highly recommendable during pregnancy
✓ Relief in painful menstrual days
✓ Boost energy level
✓ Good flavour for food
How To Use
STEP 1: You can take it with milk during bedtime
STEP 2: Saffron threads are better to consume after soaking it in milk or water for an hour
STEP 3: You can also take it with warm water early in the morning
STEP 4: Indulge the shining saffron in any desired dish to enhance food flavor
Frequently Asked Questions

Yes, our products are lab tested and certified by ISO, FSSAI & GMP.
We believe that if you keep on taking the Vedapure Natural's Kashmiri Saffron for 1 week, you will start feeling the difference.
Yes, you can take the Kashmiri Saffron in summer as well.
Yes, all our products are 100% Ayurvedic and lab tested.
Vedapure Natural's Kashmiri Saffron comes in 1gm packing.
Yes, our Kashmiri Saffron is suitable for both male and female.
Yes, our Kashmiri Saffron is suitable for pregnant ladies.
You can take 2-3 threads of Kashmiri Saffron, put in warm milk for 8-10 minutes and then consume with milk You can also use kashmiri saffron in desserts.
Yes, Vedapure Natural's Kashmiri Saffron is 100% vegetarian.
2 years from Date of Manufacturing.
Share
View full details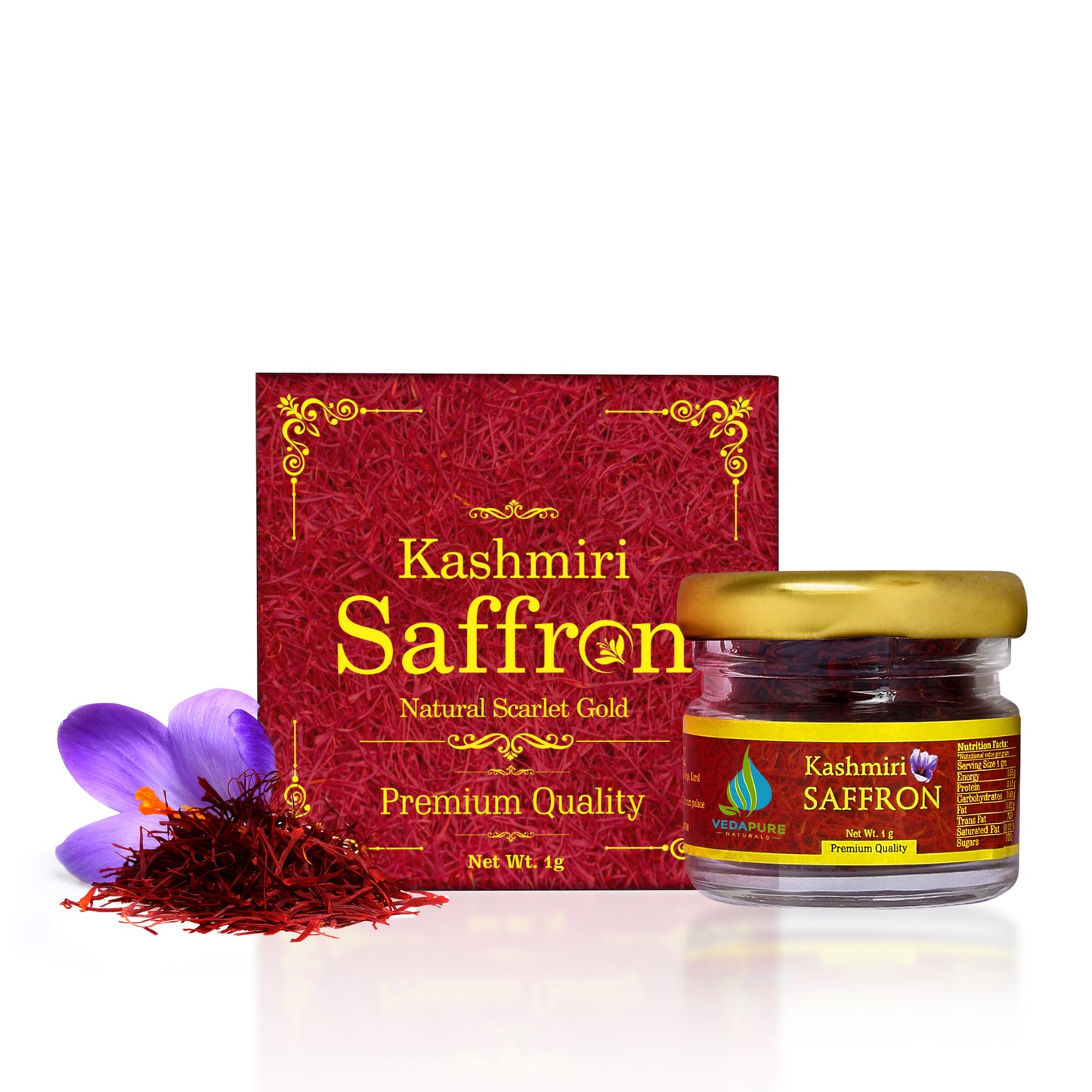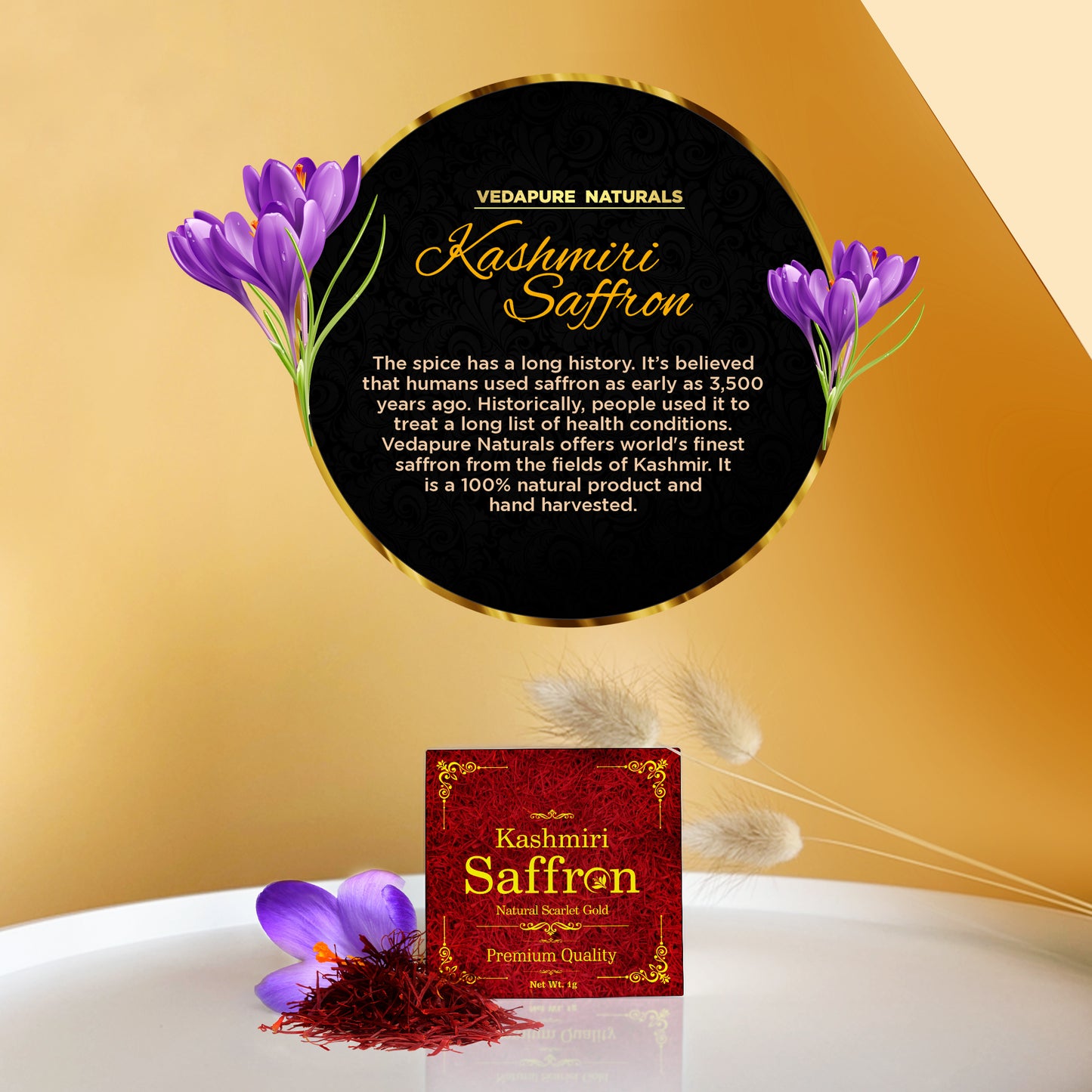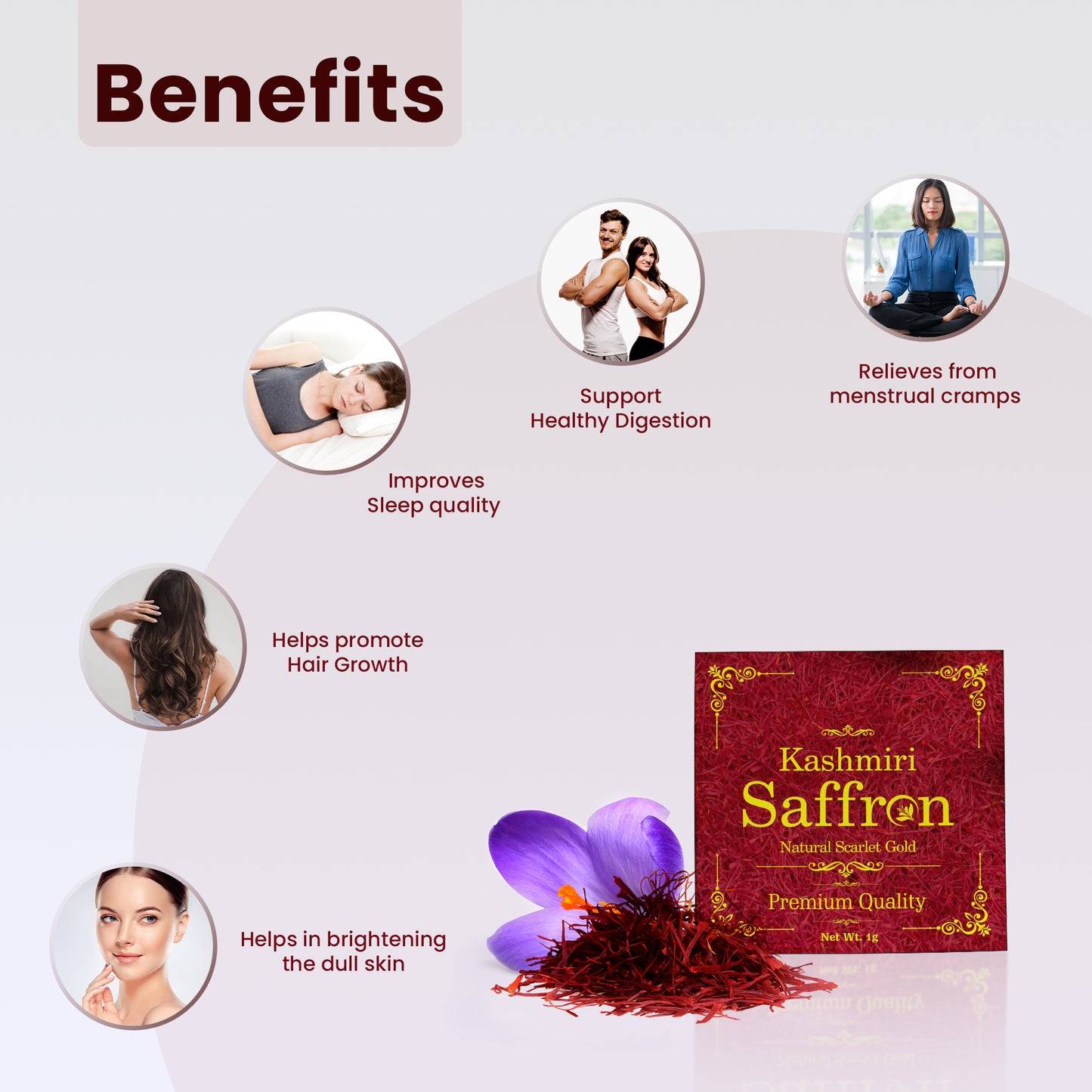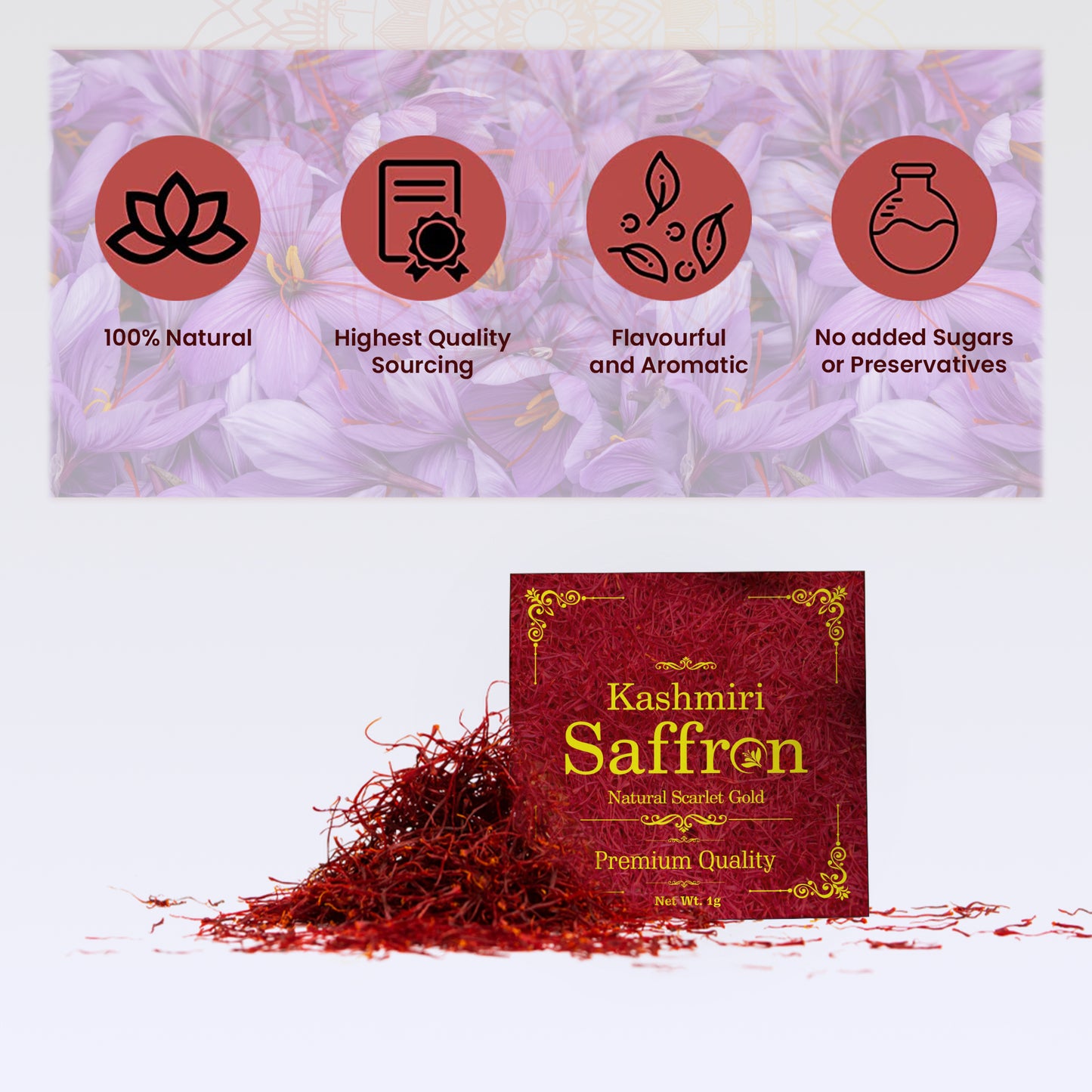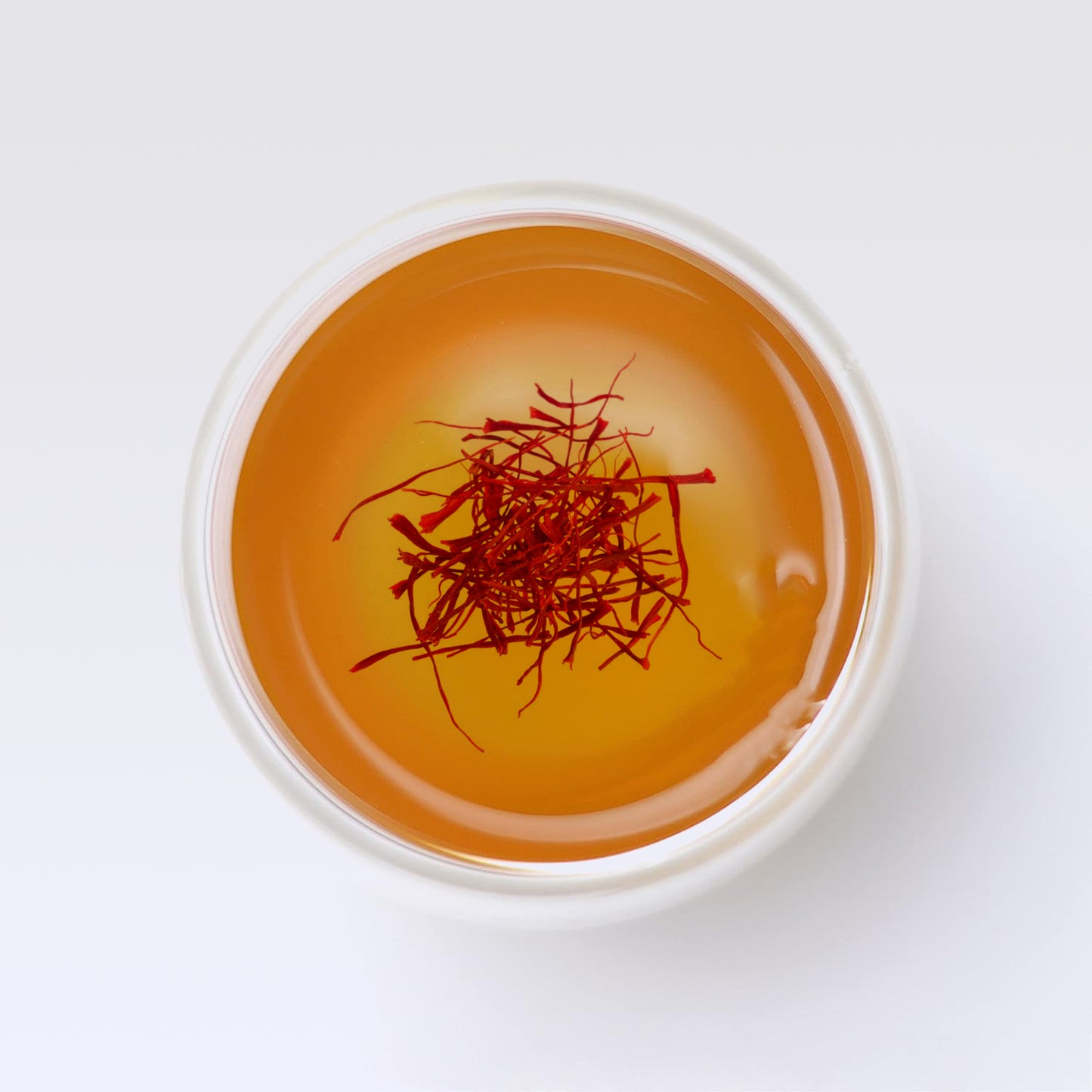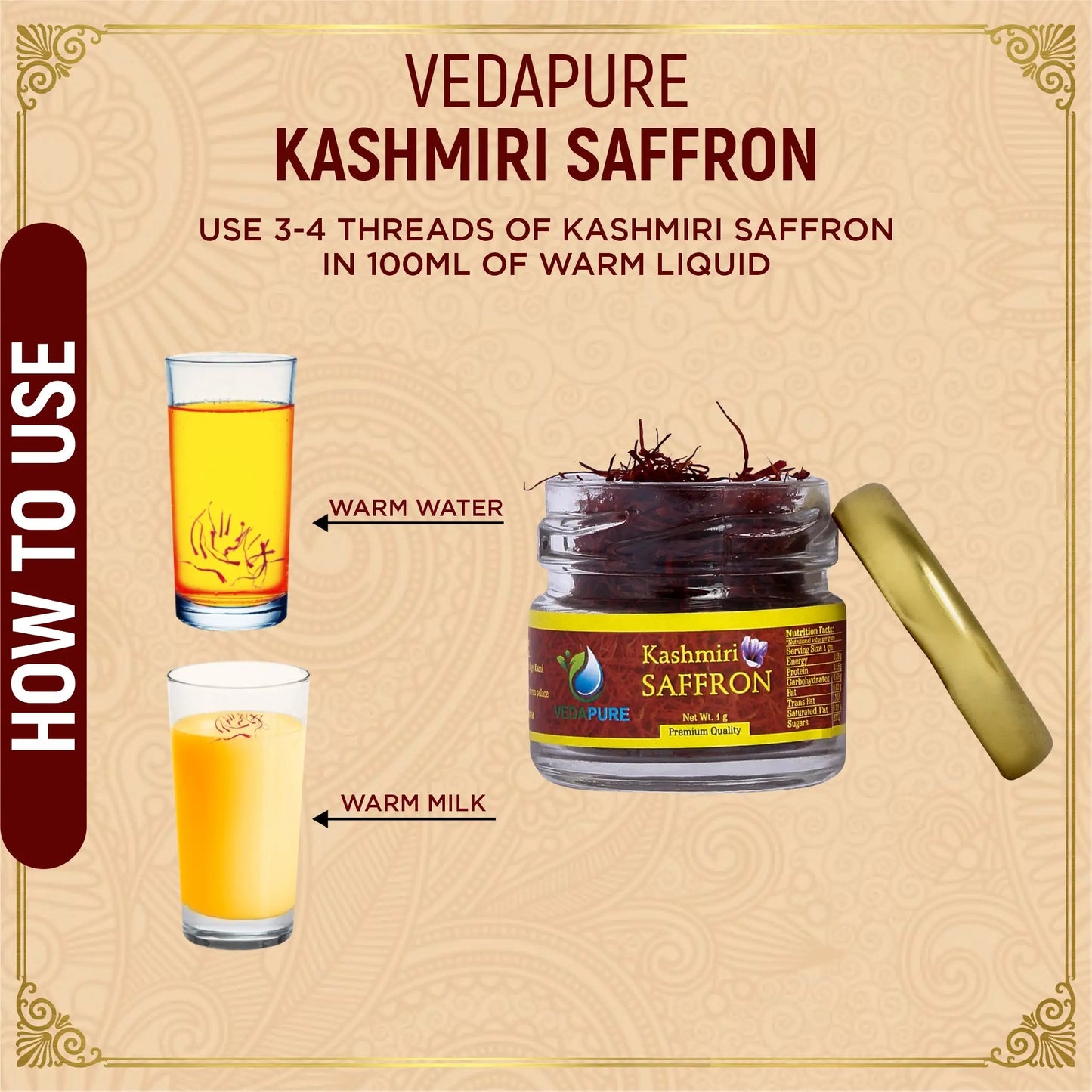 Amazing
Such pure quality Saffron. I am loving it.
Lovely
Really pure original and nice quality Saffron.
Amazing
Very good packaging and the Saffron is pure.
Amazing
Such a pure original taste. The quality of the kesar is really nice. I liked it.
Highly recommended
It's the purest saffron I have used in the recent times. The fragrance is also very good. The packaging is very premium and comes in an air tight glass container.